Comparing the Efficacy of Ketogenic Diet with Low-Fat Diet for Weight Loss in Obesity Patients: Evidenc-Based Case Report
Nurul Ratna Manikam

Faculty of Medicine Universitas Indonesia, Rumah Sakit Cipto Mangunkusumo, Jakarta

Nico I Pantoro

Universitas Indonesia

Karina Komala

Universitas Indonesia

Ayu Diandra Sari

Universitas Indonesia
Keywords:
ketogenic diet, low-fat diet, obesity, weight loss
Abstract
Introduction Obesity is a nutritional disease which is still a health burden particularly in Jakarta. The main treatment for obesity is nutritional intervention. Nowadays, several dietary approaches have been developed, including ketogenic diet, which is still controversial. Methods Literature search had been done within 4 databases including PubMed®, Cochrane®, Google® Scholar, and Science Direct®, using keywords: obesity, ketogenic diet, low-fat diet, and weight loss. Then, Medical Sub Heading (MeSH) was used. The search resulted in two articles which were appraised according to aspects of validity, importance, and applicability Results A randomized-controlled trial study showed similar effect of weight loss with ketogenic diet compared to low-fat diet. On the other hand, a meta-analysis study showed ketogenic diet caused more weight loss than low-fat diet. Both studies showed an increased risk of cardiovascular disease from the ketogenic diet group, which were shown by a decrease of flow-mediated dilatation and an increase of LDL-C. Conclusion Ketogenic diet shows a better long-term effect for weight loss in obese patients than low-fat diet. However, ketogenic diet may increase the cardiovascular event risk significantly.
Downloads
Download data is not yet available.
References
Mitchell N, Catenacci V, Wyatt HR, Hill JO. Obesity: overview of an epidemic. The Psychiatric clinics of North America. 2011; 34(4): 717-732.
WHO Western Pacific Region. The Asia Pacific perspective: redefining obesity and its treatment. Australia: Health Communications; 2000.
Badan Penelitian dan Pengembangan Kesehatan. Riset kesehatan dasar 2013. Jakarta: Kementerian Kesehatan RI; 2013.
Segula D. Complications of obesity in adults: A short review of the literature. Malawi Medical Journal. 2014;26(1):20-24.
Caterson ID. Medical management of obesity and its complication. Ann Acad Med Singapore. 2009; 38(1): 22-7.
Perez-Guisado J. Ketogenic diet and weight loss: basis and effectiveness. Arch Latinoam Nutr. 2008; 58(2): 126-31.
Paoli A. Ketogenic Diet for Obesity: Friend or Foe? International Journal of Environmental Research and Public Health. 2014;11(2):2092-2107.
Paoli A, Bosco G, Camporesi EM, Mangar D. Ketosis, ketogenic diet and food intake control: a complex relationship. Frontiers in Psychology. 2015; 6: 27.
Wycherley TP, Brinkworth GD, Keogh JB, Noakes M, Buckley JD, Clifton PM. Long-term effect of weight loss with a very low carbohydrate and low fat diet on vascular function in overweight and obese patients. J Intern Med. 2010; 267(5):452-61.
Bueno NB, Viera de Melo IS, Lima de Oliveira S, Ataide TR. Very-low-carbohydrate ketogenic diet v. low-fat diet for long term weight loss: a meta-analysis of randomised controlled trials. Br J Nutr. 2013; 110(7): 1178-87.
Dashti HM, Mathew TC, Hussein T, et al. Long-term effects of a ketogenic diet in obese patients. Experimental & Clinical Cardiology. 2004;9(3):200-205.
Paoli A, Rubini A, Volek JS, Grimaldi KA. Beyond weight loss: a review of the therapeutic uses of very-low-carbohydrate (ketogenic) diets. European Journal of Clinical Nutrition. 2013;67(8):789-796.
Schwingshackl L, Hoffmann G. Low-carbohydrate diets impair flow-mediated dilatation: evidence from a systematic review and meta-analysis. Br J Nutr. 2013; 110(5): 969-70.
Jovanovski E, Zurbau A, Vuksan V. Carbohydrates and Endothelial Function: Is a Low-Carbohydrate Diet or a Low-Glycemic Index Diet Favourable for Vascular Health? Clinical Nutrition Research. 2015;4(2):69-75.
Volek JS, Ballard KD, Silvestre R, Judelson DA, Quann EE, Forscythe CE, et al. Effects of dietary carbohydrate restriction versus low-fat diet on flow-mediated dilatation. Metabolism. 2009; 58(12): 1769-77.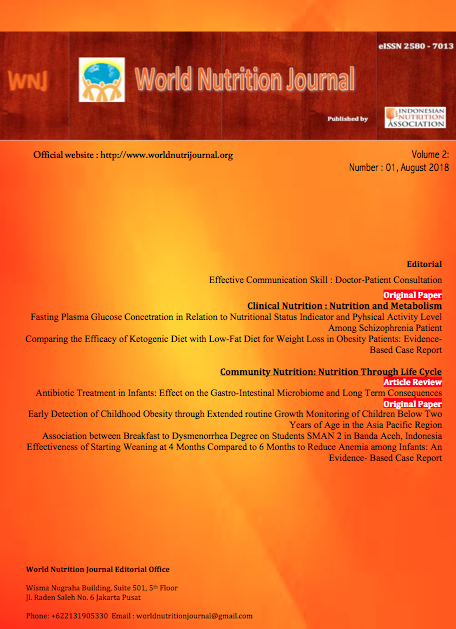 World Nutrition Journal is an open acces journal and under the licence of