The role of symbiotic to treat diarrhea in a critically ill Guillain-barre syndrome patient with morbid and type 2 diabetes mellitus : A case report
Beatrice Cynthia Walter

Faculty of Medicine University of Indonesia, Dr. Cipto Mangunkusumo Hospital, Jakarta, Indonesia

Steffi Sonia

Faculty of Medicine University of Indonesia, Dr. Cipto Mangunkusumo Hospital, Jakarta, Indonesia

Wina Sinaga

Faculty of Medicine University of Indonesia, Dr. Cipto Mangunkusumo Hospital, Jakarta, Indonesia

Lily Indriani Octovia

Faculty of Medicine University of Indonesia, Dr. Cipto Mangunkusumo Hospital, Jakarta, Indonesia
Keywords:
synbiotic, Guillain-Barre syndrome, critically ill, diarrhea
Abstract
Guillain-Barre Syndrome (GBS) is a serious post-infectious immune-mediated neuropathy, and the case is increasing every year, approximately 6 in 100.000 cases yearly. Several cases depend on mechanical ventilation (MV) and have diarrhea during treatment in the intensive care unit (ICU). This case report aims to describe the role of synbiotic supplementation in treating diarrhea in a GBS patient in intensive care unit (ICU).
Downloads
Download data is not yet available.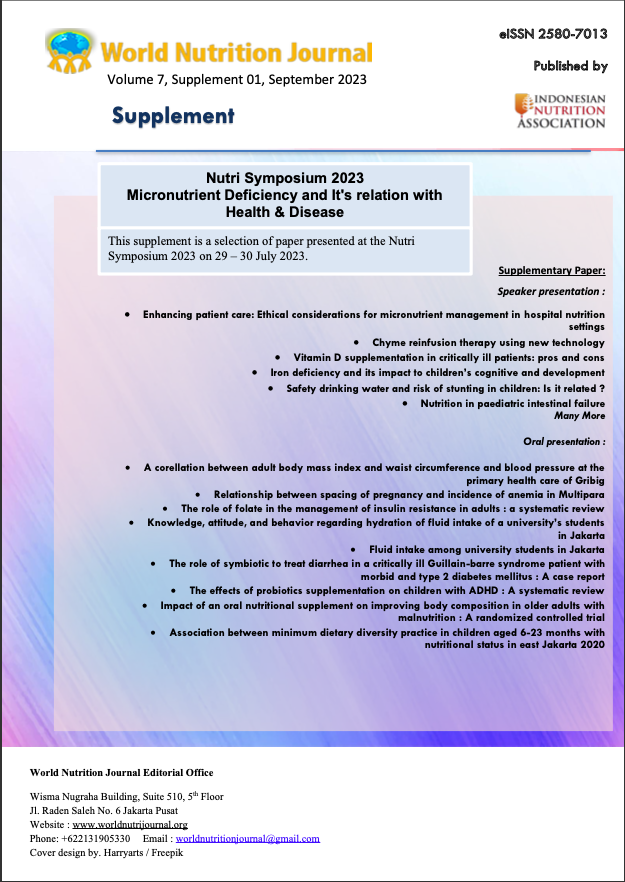 Copyright (c) 2023 Beatrice Cynthia Walter, Steffi Sonia, Wina Sinaga, Lily Indriani Octovia
This work is licensed under a Creative Commons Attribution 4.0 International License.
World Nutrition Journal is an open acces journal and under the licence of