Vitamin D supplementation in critically ill patients: pros and cons
Abdolreza Norouzy

Mashhad University of Medical Sciences

M Arabi

Neishabour University of Medical Sciences
Keywords:
vitamin D supplementation, traumatic brain injury, inflammation, mortality
Abstract
Traumatic Brain Injury (TBI) is a leading cause of death in patients admitted to the intensive care unit. Vitamin D or calciferol is a steroidal compound made of cholesterol with healing properties due to its specific receptors (vitamin D receptors) in the nucleus of brain cells and its protective properties against nervous tissue in addition to its anti-inflammatory effects. This study is a double-blind randomized clinical trial that was performed on 72 patients with severe brain injury with a mean age of 34-50 years. They were randomly assigned to the study, thus intervention and control groups received vitamin D with a dose of 100,000 units and a dose of 1000 units for 5 days, respectively.
Downloads
Download data is not yet available.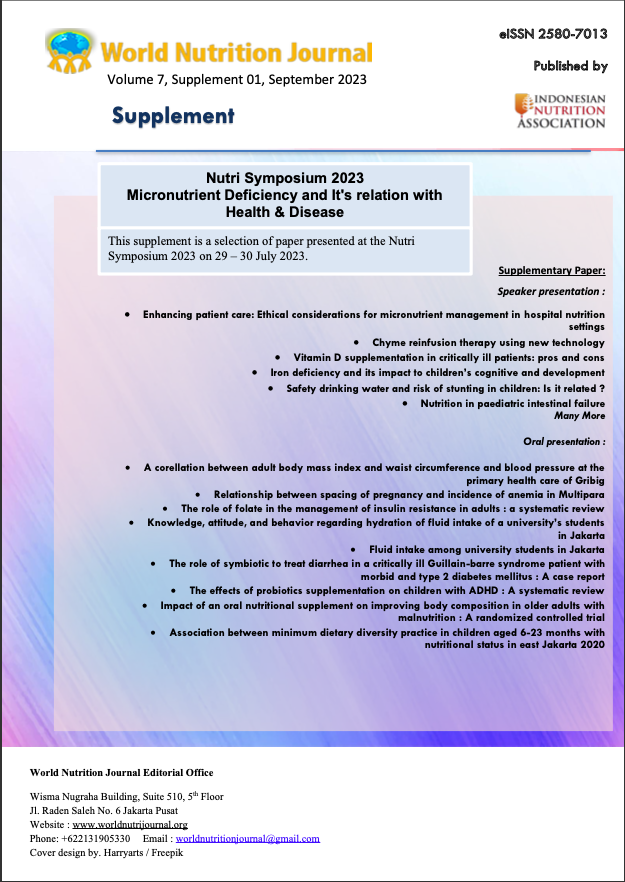 Copyright (c) 2023 Abdolreza Norouzy, M Arabi
This work is licensed under a Creative Commons Attribution 4.0 International License.
World Nutrition Journal is an open acces journal and under the licence of