Impact of an oral nutritional supplement on improving body composition in older adults with malnutrition : A randomized controlled trial
Prasani Wickramawardhane

Faculty of Medicine, University of Colombo, Colombo, Sri Lanka

Chamila Dalpatadu

Faculty of Medicine, University of Colombo, Colombo, Sri Lanka

Andrew P Hills

University of Tasmania, Launceston, Tasmania, Australia.

Priyanga Ranasinghe

Faculty of Medicine, University of Colombo, Colombo, Sri Lanka | 5. University/British Heart Foundation Centre for Cardiovascular Science, University of Edinburgh, Edinburgh, United Kingdom

Ranil Jayawardena

Faculty of Medicine, University of Colombo, Colombo, Sri Lanka
Keywords:
body composition, malnutrition, older adults, Ooral nutritional supplement
Abstract
The consequences of malnutrition in the elderly often manifest as weight loss and altered body composition. The aim of this study was to assess the efficacy of an oral nutritional supplement (ONS) on body composition in malnourished older adults.
Downloads
Download data is not yet available.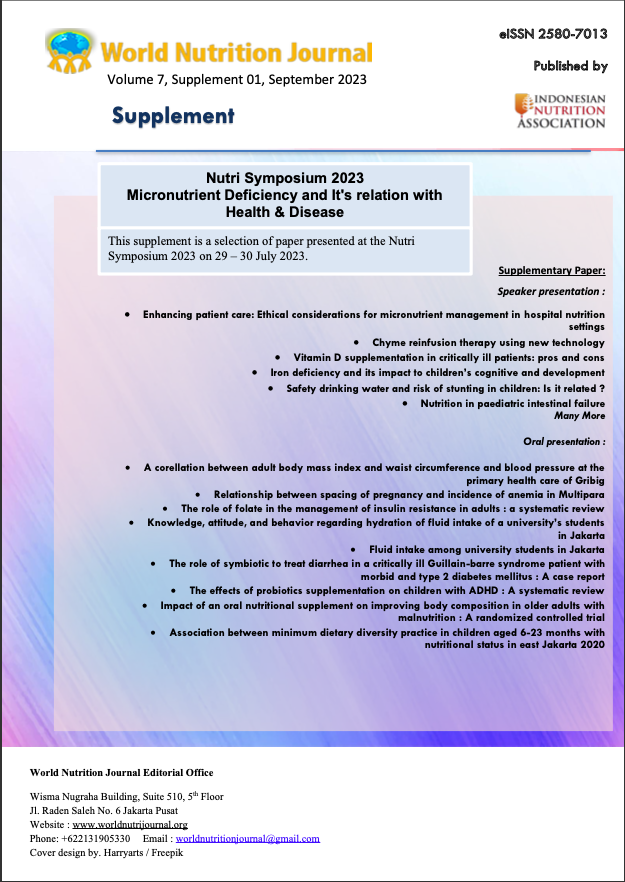 Copyright (c) 2023 Prasani Wickramawardhane, Chamila Dalpatadu, Andrew P Hills, Priyanga Ranasinghe, Ranil Jayawardena
This work is licensed under a Creative Commons Attribution 4.0 International License.
World Nutrition Journal is an open acces journal and under the licence of